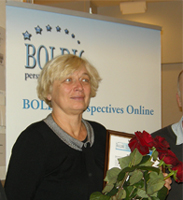 Maira Dumpe from BA School Riga Latvia recieved the BA2013 on account for Riga Technical University in SVERD Autumn Conference in Stockholm 18th of Oct.
Boldic Award Winner 2013 Riga Technical University Latvia.
Contact see
Project eBig3 See link http://www.ebig3.eu
Motivation
BOLDIC AWARD 2013
RIGA Technical University from Latvia is the winner of Boldic Award 2013 of 500 Euros for
the innovative project work done during Ebig3 project.
This project combines a wide coverage of TV technology and a wide use of mobile technology with the capacity and flexibility of broadband. This allows a learner to use a single delivery channel at a particular time, depending on availability and preferences, or a complementary combination of two or three delivery channels thus supporting learning anywhere anytime.
This is an innovative project of open and distance learning. The Ebig3 project (http://www.ebig3.eu) uses not only traditional Internet based systems but alsoTV and mobile technologies.
The developed solutions includes integration of technical issues for cross-media learning content delivery, refinement of pedagogic considerations, development of shared understanding of target user learning contexts in border areas, production of learning content & organizing course pilots. The projects strategy and soloutions can be scalable over the whole Nordic and Baltic region. http://www.ebig3.eu
This is a unique way to work together to promote online learning and ICT-supported flexible lifelong learning in the Nordic and Baltic region. Ebig3 meets the requirements of the jury and is a worthy winner of the Boldic Award 2013.
Congratulations!
Stockholm 18 October 2013 , The Boldic Award Jury 2013
Ulf Sandström
Swedish Association for Distance Education
Torhild Slåtto
Flexibel Education Norway
Jorgen Grubbe
Forening for fleksibel utdanning Denmark
Danguole IgnataviciuteVilniaus Kolegija Lithuania
Maira Dumpe
BA School of Business and Finance Latvia
Jan Pawlowski
University of Jyväskylä Finland
Hans Poldoja
Tallinn UniversityEstonia
The nominated projects for Boldic Award 2013 was
Schhool lift Swe 2p
Flipped Classroom Swe 5p
Campus NooA Nor 10p
OER Nordic Alliance Nor 6p
Crossboarder edu Den 9p
Ebig3 Lat 20p
KAE Kool Est 8p
Sometu Fin 10p
Dream School Fin 4p
<!–Just fill in the form below or attach a text file , then click submit to register your Boldic Award 2013 nominee –!>
<!–
–!>